Development
Brief history of our becoming
Our professional development originates in production and commercial activities associated with offset and digital printing, in production of indoor and outdoor advertising materials as well as the trade with stationery and related materials. Therefore, after more than 20 years of activity in which paper and cardboard, of various types and sizes, have been the main raw material, we have considered that a natural development of our activity consists in adding the production of packaging made of corrugated cardboard. Thus, 10 years ago, the Fabrica de Ambalaje Cartonate was born, as a result of a constant concern and with an independent activity. In the time that has passed since then and until now, our activity has grown up, developed constantly, through diversification and expansion, a fact that makes us today the owners of a portfolio of clients who make us proud and to whom we thank for choosing our products made of corrugated cardboard.
Our Mission
The Quality of the product is the central pillar of our mission!
Fabrica de Ambalaje Cartonate, through commitment, attention to details, continuous improvement and orientation to the needs of our partners, has assumed the role of providing superior quality and promptness in the design, production and delivery of packaging made of corrugated cardboard.
Vision
Sustainable Production is our vision to contribute to a better future!
Our vision exceeds ordinary and aims to develop sustainable partnerships, based on mutual respect, performance and sustainable development. We strongly believe that, one and all, we can contribute to that change for the better of the business models, the environment and life in general.
Values
Our activity is Pro-active, carried out with Passion and Persistence!
The human being and the environment are in direct connection, which is why we make every effort to develop sustainable and feasible activities to minimize the impact on the environment. With passion and determination, we are always oriented to respond to the needs and requirements of our partners, with an emphasis on identifying solutions regardless of the field of activity.
Transparency
We are always transparent because we believe that full transparency and honest communication are the key to solving any animosities.
Each European project achieved and the results related to it, as well as each of our achievements are reasons for pride and represent firm steps towards continuous training, improvement and development.
In 2012 – BIROTICA SRL obtained non-refundable financing, in the amount of 200,000 Euros, for the project "Diversification of the activity of SC BIROTICA SRL through the purchase of a packaging production line - corrugated cardboard boxes and paper boxes". That was the moment when a production line for paper and corrugated cardboard packaging was purchased.

Later, to improve the technical endowment and increase the competitive advantage on the market of BIROTICA SRL, we purchased in 2013, from our own sources, some equipment that offers the possibility of making paper and cardboard samples and packaging in small runs.

In 2018, we purchased a plot of land of 4,500 sqm in the Alba Iulia, ​​ in order to relocate production to a location fit to the growing volume of orders and the efficiency of production flows.

In 2020, BIROTICA SRL obtained non-refundable financing, in the amount of 200,000 euros, for the project "Construction of a corrugated cardboard packaging production hall". Thus, we started the construction of a modern hall, energy efficient and adapted to the needs of people with disabilities.

In 2022, the entire activity of the company moved to the new location, and until 2024 we intend to reach new non-refundable financing to equip the production space with much more photovoltaic panels with the aim of becoming independent in terms of energy and to achieve our entire production only by using green energy.
Acknowledgement
Our certifications are proof that we are always performance-oriented, trying to constantly gain elements that accredit us professionally.
BIROTICA SRL is a Protected Unit - Protected Unit Permit 2023 - issued based on the MMPS - ANDPDCA Order no. 522/25.05.2023.
In 2019, BIROTICA SRL was certified FSC®-CoC – certification of the traceability of products of forest origin and projects related to their use, license code FSC-C149108.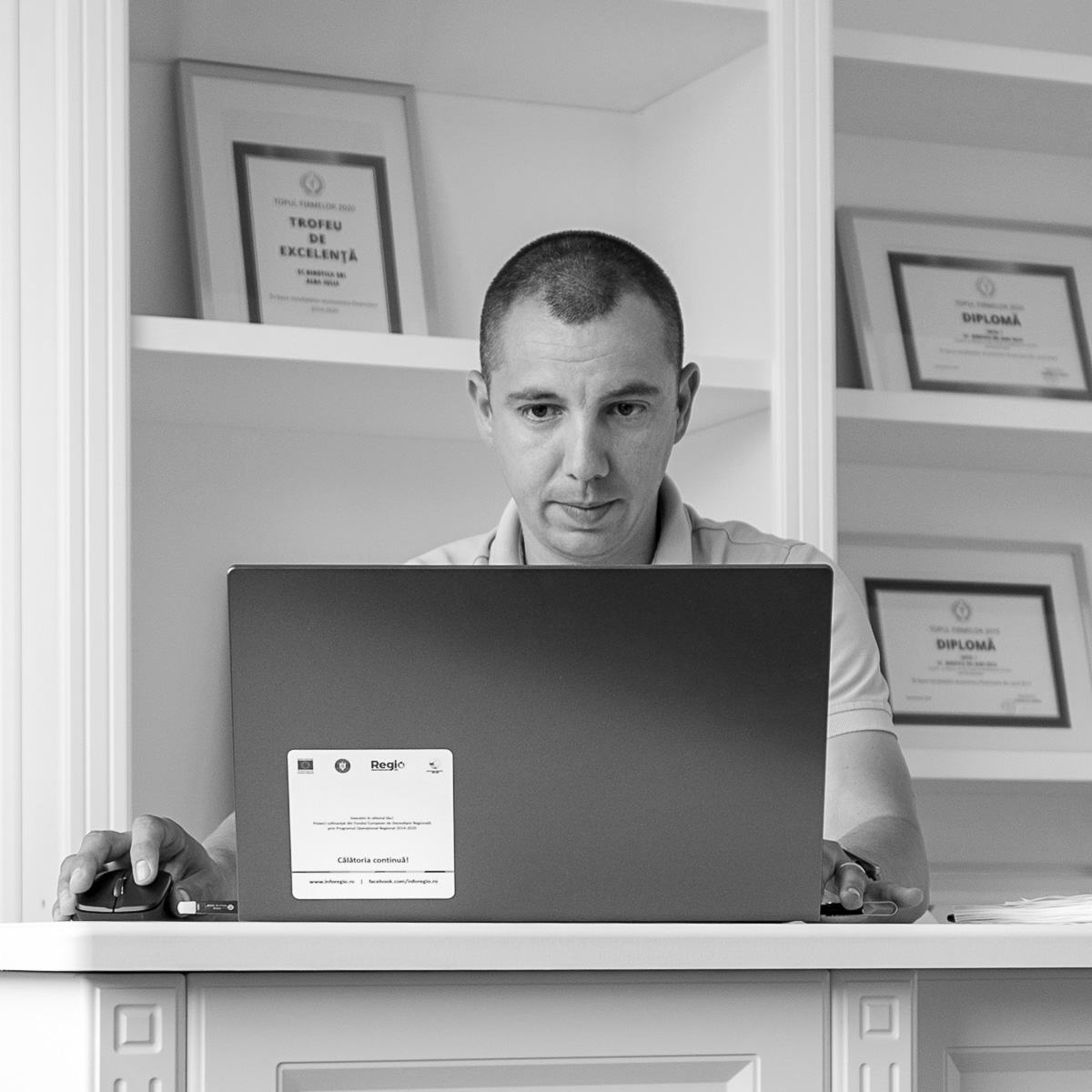 Team
Alexandru Urban
Managing Partner
In my activity, I have always guided myself according to the principle "Promise less and deliver more". Taking responsibility for decision-making is a defining feature underlying our actions and results!
 +40 745 056 438
 alexandru.urban@ambalajecartonate.ro